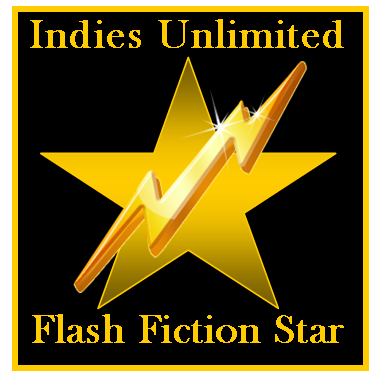 Mary Kay Bonfante is the Readers' Choice in this week's Indies Unlimited Flash Fiction Challenge. The winning entry is decided by the popular vote and rewarded with a special feature here today. (In the case of a tie, the writer who submitted an entry first is the winner per our rules.) Without further ado, here's the winning story: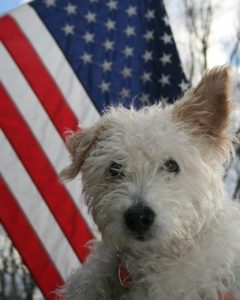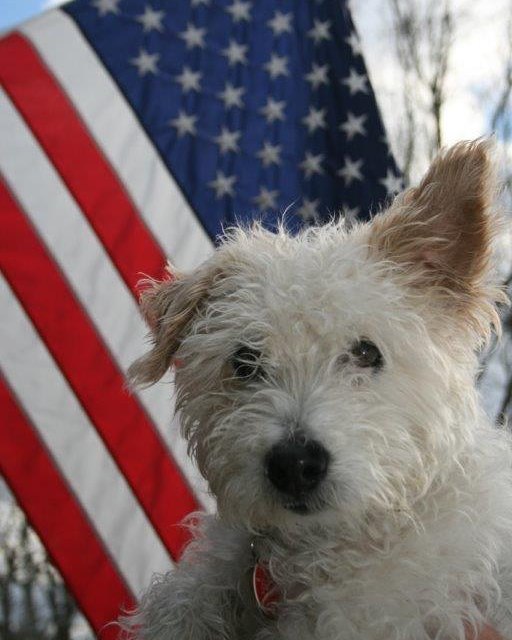 Yankee Doodle Doggie
by Mary Kay Bonfante
Rafael, my loyal person, had died. It broke my heart. Then his children tried to sell me with the house. When that didn't work, some big doofus brought me to a shopping mall and left me tied to a parking sign.
What betrayal! Finally someone untied me, and I was passed from person to person, until Lucy, a kind lady, brought me home.
Lucy lived in a tall building with many stairs, doors and smells. We climbed almost to the top.
Inside, I found a soft rug to lie down on. I could be comfortable here, but I missed Rafael. After awhile, Lucy became my new person, and I wanted to stay with her.
Then came a knock on the door. "You can't keep the dog," said the man, handing Lucy a letter.
Lucy made many phone calls. She was trying to find me another home! Didn't she want me? But then I saw her crying.
We went to the park, with a flag and a camera. Then we came home, and when she was finished, she had a stack of posters:
WOULDN'T YOU LOVE THIS YANKEE DOODLE DOGGIE?
Lucy was holding me, in tears. When we went out to hang the posters, she also knocked on doors, asking, "Do you have apartments available? Do you allow dogs?"
Before long, Lucy stopped crying, and we were moving out. She really wanted to keep me! I am her Yankee Doodle doggie, and my forever name is Dandy.