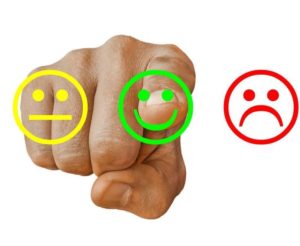 Book reviews are essential to writers. While we do our best to communicate the essence of our stories through our book descriptions, the reviews from readers tend to go deeper, revealing some of the more detailed layers of our stories to other potential readers. Just think back — do you read reviews of books you're thinking of buying? And have you ever been swayed to buy/not buy after reading a review? Reviews are immensely important.
However, I've heard from lots of readers that they don't leave reviews. Why? Various reasons. They don't feel like they know how to write a good review. They don't know what to say. Perhaps they don't feel their writing skills are up to par, and are worried about it not being perfect. They think they have to write at length.
Understandable, but none of these need to scare a reader off.  Let's see if we can break reviews down into smaller chunks so they're more easily rendered.
Length
Reviews don't have to be long. We don't need a dissertation here. A review can be as short as, "I loved it!" or as long as… well, a dissertation, or anything in between. One or two lines, one or two paragraphs, a page — any length at all is fine. There are no "review police" who are going to hunt you down if you only write one sentence.
What to Say
This, of course, is wide open to interpretation. All reviews are subjective, readers' opinions, so they can be about any aspect of the book. Here are a few to consider.
Type of Book
What's the genre of the book? Romance, thriller, fantasy, horror? Whatever genre it is, is it faithful to that genre? There's nothing worse than thinking you're getting a romance and then finding out it's a slasher story. Did the book fulfill your expectations? Exceed them or fall short? Why?
Characters
Did you like the characters? Why? Perhaps they embodied qualities you admire: honesty, compassion, integrity. Or, alternatively, perhaps they were very different from you, and gave you insight into the mental and emotional processes of personalities you're not familiar with. Perhaps they were angry and stubborn, closed off due to events in their past which they were only able to confront after being forced into a corner. Likewise, if there was a specific villain, how did you relate to him/her? We've all heard about people "we love to hate;" sometimes a good villain drives a story as well as a good protagonist. Were all the characters believable? Could you see them in your mind's eye doing the things they were doing, or did you find yourself rolling your eyes and thinking, "Oh, come on!" And were the characters fully rounded? Not two-dimensional cut-outs, but complex, layered personalities. No one is all good or all bad; flaws in the characters keep them real, and keep them interesting.
Dialog
Realistic dialog can be difficult to write. Remember the old movies (Bogart, et al) where a character comes off with a full soliloquy, talking non-stop for fifteen minutes? Does anyone actually talk like that? Most discussions are back-and-forth, give-and-take. If the dialog in a book is done correctly, you might feel like a fly on a wall, listening in to real people talking about real things. If it sounds like a lecture, then not so much. If it's used to recap the story ("Bob, you'll remember I told you that…"), that's not realistic. If the characters use each other's name with every sentence ("Bob, I need to talk to you." "Okay, Marsha. What's up?" "Bob, there's a problem…"), that's not the way people really talk. You don't have to be an English professor to know if the dialog feels real or not.
Story Line
Did you find the twists and turns of the plot to be entertaining? Surprising? Exciting? Remember that you don't really need to retell the story in your review. If there were places in the story that surprised you, don't spoil the surprise for the next reader. If you do feel the need to reveal surprises, do so with a ***SPOILER ALERT*** so those readers who don't want to know can choose to read on or not. Was the pace of the story good? Did it pull you along, or did it bog down in the middle? Were you compelled to keep turning pages? Did you wonder how it would end, or was it fairly predictable? Did any parts of the story line not make sense? Were there gaps in the story, places where the characters seemed to act without motivation? Any places in the book that made you stop and say, "Huh?"
Writing Style
Thinking back on it, did the style of writing carry you along effortlessly? Or did you have to stop often to figure out what the author meant, or puzzle out a sentence? Were the descriptions well done, both of the characters and the surrounding area? Did the author give you enough to visualize the action, to imagine the location? Or did the descriptions drone on for too long? Sometimes the best writing style is one you don't even notice, because it gets out of your way and lets you immerse yourself in the story.
Emotion
Finally, how did you feel as you read the book? Excited? Inspired? Tense? How did you feel at the end of the book? Satisfied? Let down? As you turned the last page, were you glad to finally put the book down, or did you want it to go on?  Was there an "afterglow" as you sat pondering the book, or were you ready to get on to something else? Did the book make you laugh? Make you cry? Were you sad to say goodbye to the characters?
As you can see, there's a lot to consider when writing a review. The good news is that you don't have to consider it all. These are just a few of the aspects you might want to include in your review, but they are by no means all, nor do you have to include them all. Ready to give it a try? Think about the last book you read that you really enjoyed, and jot down a few lines to explain why, as if you're talking to a friend. You might be surprised. And you just might end up being a great book reviewer.