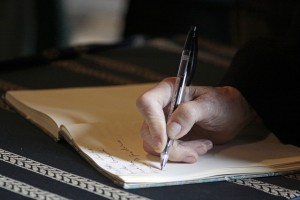 Authors write memoirs for a variety of reasons. The question is – does the motivation really matter? Is it just enough to share your story, or does it have to have some kind of reasoning behind it?
One popular and, I think, good reason is to share anecdotes that are funny – to make readers smile or laugh. I have read and enjoyed a few of those. The issue with humour is it can be very difficult to write well. Someone can lead a life filled with amusing incidents but unless they are written with a good comic flare they will fall flat. I'm afraid mine would never fall into that category. My attempts at humour usually result in, "Er – what?"
Another reason to memoir would be to share personal experiences or expertise in a particular area, to share information on a specific topic from an individual point of view. A member of my critique group had polio as a child and now suffers from post polio. Not many people know about post polio, so her aim is help more people understand it. This type of memoir is aimed at a niche market, at those who have, or know someone who has, experience with the particular situation or topic the memoir focuses on. These can be very helpful for both education and support.
A common type of memoir is one that centers around a life that has been unusual and interesting, or one that has taken place in the public eye. In this case, name recognition is the draw. It almost goes without saying that if one has lived a public life and has a name the public recognizes, that person will have an audience wishing to know more.
For years now, many who know me have urged me to write my memoirs. So far I have resisted, as it is clear to me that my own story fits none of the categories above. I am not famous. I have no expertise or knowledge of note on any specific topic. My sense of humour is well … let's not go there, okay?
While there may be other types of memoirs, I personally can think of only one more. Some might call it self-help, others therapeutic, still others speak of them as healing, be that for the reader or writer. They are often highly charged and emotional, both for the author and reader.
This is the area my memoir would fit into – if I choose to write it. And there lies the rub. I am past needing to do this for myself, for my personal healing. While no one ever stops changing, growing and learning, I have been through enough therapy and life experience to have come out the other end fairly stable and self-actualized. So I don't "need" to write my memoir for me. That leaves the last possible motivation – to write it for the benefit of others who have lived through, or are currently struggling with, abuse of one kind or another and have not yet reached a point in their own journeys that they no longer need outside support or information.
So, do I write my memoir? Or not? That decision now rests on only one question. If I publish it will it be of comfort or support for those suffering from abuse? Will it help? If it won't then there is no point. I'm still sitting on the fence. What do you think?