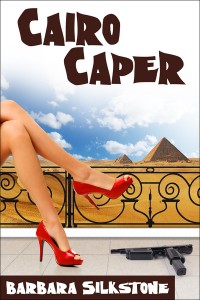 Part-time tomb raider and full-time real estate broker, Wendy Darlin joins her lover, archaeologist Roger Jolley, in a quest for Cleopatra's tomb. All they have to do is get from Cairo to the Temple of Taporisi Magna alive. Armed only with a couple of hijacked ashtrays and faced with a trek across the blazing Sahara desert can Wendy out-maneuver Russian oligarchs, a dozen Dark Force mercenaries, and Roger's chubby ex-girlfriend in time to find the tomb and seal it before chaos erupts in Egypt?
Cairo Caper, Barbara Silkstone's mysterious comedy, is available through Amazon.com and Amazon UK.

Don't forget, you can cast your vote for trailer of the month on December 28, 2013 at 5 p.m. Pacific time.