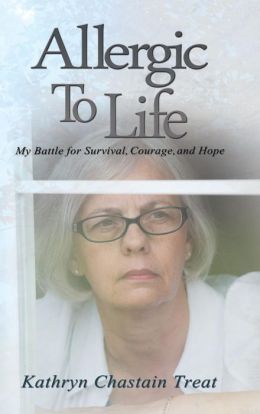 Allergic to Life: My Battle for Survival, Courage, and Hope
by Kathryn Chastain Treat
Genre: Inspirational Biography
Word count:117,204
Imagine that the very food you eat and the beautiful carpet on your floors start to make you feel violently ill. Your contact lenses cause your eyes to burn and water uncontrollably. Trace amounts of mold on other people's clothing cause you to become unable to hold a thought or get it from your brain to your mouth during an everyday conversation.
The life you once knew is gone and you have become a prisoner of unexplainable and severe allergies and sensitivities. In this new life you can no longer shop or visit friends in their homes because there are too many chemicals and fragrances there. You become plagued by one mystery infection after another and no doctor or specialist seems to be able to give you any explanation of what's causing your terrifying symptoms. Depression sets in and becomes your constant companion as you try to cope with the stress of being sick and of struggling to live within your newfound limitations.
"Allergic to Life: My Battle for Survival, Courage and Hope" is the story of one woman's journey through a battle to reclaim her life and overcome depression caused by an exposure to toxic mold in her workplace.
This book is available from Amazon and Barnes & Noble.
Kathryn, how did you come up with the title for your book? Does it have any special meaning?
A friend helped me come up with the title of this book. The title is the perfect explanation of what has happened to me (becoming allergic to everything) and the battles that I have faced to survive, find courage, and hope for a way to live my life again.
What was the hardest part of this book to write/research?
I found the entire book difficult to write at various times because I was reliving my ordeals and struggles. Reading my journals was the most difficult part of the writing process. The emotions in my journal writings were so raw.
Does your book have any underlying theme, message, or moral? 
While the underlying message is about the dangers of mold, it is also a wake-up call to everyone about the dangers of all the chemicals they are using in their homes, ingesting, and putting on their skin. The moral is that despite the difficulties one faces, it is important to keep moving forward and to not give up.
What would/could a reader or reviewer say about this book that shows they "get" you as an author? 
I hope that a reader or reviewer would say that they have a better understanding of my battle and its causes. I also hope that they would see this book as a story of survival and courage and my sheer will to not give up.
Give us an excerpted quote from your favorite review of this book: 
A highly recommended read for those who feel that all hope is gone. Treat shows us well that, as long as there is hope there is life.
Where can people learn more about your writing?
http://allergictolifemybattle.wordpress.com/