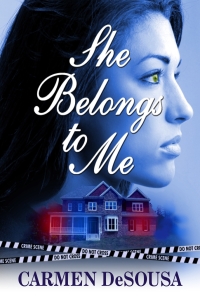 Today we have a sneak peek from author Carmen DeSousa's romantic suspense novel, She Belongs to Me.
When construction company owner and detective, Jordan Monroe, meets Jaynee he determines to make her his wife. Jaynee, however, has a history she cannot easily overcome and is fearful to submit to love. Jordan succeeds in making her his wife, but five years into their marriage, she is keeping secrets. Before he can decipher her duplicity, he discovers her unconscious in their home from a gunshot wound only hours after giving her an ultimatum concerning their relationship.
With Jaynee's life hanging in the balance, the mystery of her past drives Jordan to investigate. But what appears to be an attempted suicide turns out to be something far darker. As Jordan edges closer to the truth, it may be deadlier than he could ever have imagined.
She Belongs to Me is available in print and as an eBook from Amazon.com, Amazon UK, Barnes & Noble and other online bookstores.
And now, a page from She Belongs to Me …
A loud crack startled Jordan from his sleep. His hand flew to his pounding head as he looked around the room for the source of the noise. It sounded like a gunshot, or perhaps he was just having another nightmare. Sometimes he couldn't tell the difference.
Years in the military and working as a cop had unquestionably done a number on his psyche, so he always investigated. Often it was the dog chasing a squirrel in his sleep or the cat moving through the wood shutters as she stalked a lizard from behind her prison of glass and brick. These sounds he knew. A gunshot, though also familiar, didn't encroach on his daily routine anymore. Nowadays, most of his police work comprised of slaving behind a desk.
The room was pitch-black, and his alarm had not gone off so it was still early. He reached to his wife's side of the bed, empty, though that wasn't unusual. She had been staying up later than him, using studying as an excuse and had been falling asleep on the sofa for weeks. He didn't buy it. Things between them hadn't been the same for months.
But tonight he thought they'd resolved whatever her problem was. He was willing to take some of the blame. But as she pointed out with the age-old "it-wasn't-him-it-was-her" line, she admitted something was wrong, just not what that something was.
Fuming, he disentangled himself from the blankets that had already twisted around his feet as he thought about their conversation earlier. He had given her an ultimatum when he came home. He didn't understand what was happening but things had to change. Dejectedly, he informed her if she wanted to leave, fine, just do it and get it over with so he could move on with his life. She hadn't accepted his offer; instead, she started kissing him. She hadn't come near him in almost two months. Every time he broached the subject, she complained about her school deadlines or she didn't feel well. Tonight was different; she was different. The old passion was there as if it had never left, which it hadn't for him. She was the one who had withdrawn. She was the one who didn't want to be close to him. God how he missed her.
Jordan now wondered if everything earlier was a performance to distract him. Did she want to leave but wasn't prepared? She would graduate within a few months, something she'd been focusing on the last five years of their marriage. Would she not need him anymore? He hated feeling this way, but what else could he assume?
His anger now brewing, he rolled out of bed, pulling on his boxers and a t-shirt. If she was asleep on the sofa again, he would wake her and demand answers and not let her sidetrack him by acting as if she wanted him. He loved her but could not continue like this; he would not. It was too painful.
As he stood, he felt the pounding in his head from the excessive amount of alcohol he'd consumed. It was the first time in years he drank, one of the reasons it was so easy for her to persuade him she wanted him too. Jordan felt his way out of their master bedroom, opening the door without a sound, unsure if he wanted to rouse her to argue in the middle of the night. He shot a quick glance at the clock radio's glowing-red numbers; it wasn't even midnight. It hadn't even been an hour since he'd fallen asleep.
She must have gotten up almost immediately after they made love. No, he amended, after they had sex as that was all it must have meant to her.
---