Today we have a sneak peek from author Chris James's new science fiction novel, The Second Internet Cafe, Part 2: The Cascade Annihilator.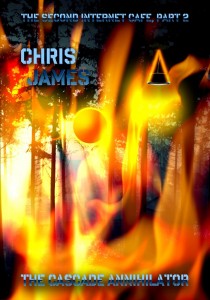 Dimension researcher Lucas Hunter returns to confront his nemesis, Dietrich, in an explosive showdown. But now Lucas's enemy is armed with the most devastating weapon imaginable.
In reality one, the Second Internet Café is itself under renewed threat. The return of Dietrich has given its enemies the means to see it closed down once and for all. From among its staff, senior analyst Paula Featherstone finds herself unwittingly thrown into the centre of the battle to keep control of the Second Internet Café. As danger of a military strike on Europe in our universe increases, Lucas jumps to an alternate 1988 to confront Dietrich. Back in the Second Internet Café, Paula and others struggle to keep the facility functioning so Lucas can return.
Lucas clashes with Dietrich in a devastating final battle, where he must defeat both Dietrich and the weapon that can destroy our universe: the cascade annihilator.
The Cascade Annihilator is currently available from Amazon US, Amazon UK, Smashwords, and in print from Lulu.
Here is an excerpt from The Cascade Annihilator…
Suddenly, Dietrich asked: "Are you a gambling man?"
"No, not really," I replied in a weak voice. He hadn't shot me for the reason that he'd thought of something better.
While still pointing the weapon at me, with his other hand he lifted the flap of a broad pocket on his tunic and spoke: "Maybe I can afford to give you a fighting chance."
From the pocket, he took out a flat black object like a large discus. He touched his weapon to it as he explained: "Now, I know a few things about you, bud, and I'm willing to have me a little bet."
The two devices emitted low tones, while in the distance the shelling seemed to begin closing in again. Fear coagulated like blood in the pit of my stomach.
"For example, I know that your portal only opens every twenty-four hours." He smiled at me, then: "According to my calculations, you've been here about twelve hours, which means you still got another twelve to wait."
His grasp of simple mathematics amazed me. "So?"
"So," he replied, finally separating the two devices and tossing the discus into the mud a couple of metres away. "That thing over there is called a 'cascade annihilator', and right now it's racking up anti-neutralinos and converting… Why, converting just about anything flying its way." He chuckled, loving every second of it.
My mind flooded with questions when I glanced at the discus, but as his laugh died, he began to take plodding steps towards me and explained the joke. "When it reaches critical mass and detonates, say in around two hours [squelch], this whole universe will collapse, with you in it [squish], and it's designed so it's gonna pull down a whole load of other realities close by [squelch]. And you know the best part? Because you're here [squish], the cascade annihilator will track back through the continuum to the exact dimension you came from [squelch], and collapse that reality, as well."
He stood in front of me and looked down with false sympathy. My left ankle throbbed, the swelling pushed against the leather of my boot, and I wanted to vomit. I sat cold and damp in the mud, and had to concentrate to stop shaking. In addition, instead of killing me outright this funny bastard was going to enjoy himself first.
I opened my mouth to ask him a question, but he didn't give me the time: "So, for the last time, it's goodbye, buddy, to you and whatever goddam dimension you come from."
He rocked backed on his hips and then kicked me hard in the side of my head.
---