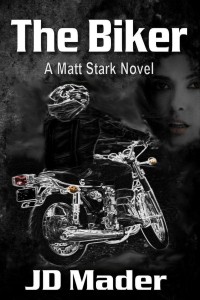 The Biker (A Matt Stark Novel)
by JD Mader
Genre: Urban Western
Word count: 50,000
San Francisco is a small city with big problems. When Matt Stark witnesses his father's murder, he decides to rid the city of one of its problems – the man with the scars. Matt is dangerous with his fists. He is good on a motorcycle. Vengeance is new to him, but he is a quick study. With the help of his childhood friend, Striker, and the beautiful and mysterious Maria, Matt decides to find his father's killer and even the score. "The City" has many secrets, however, as Matt discovers as he embarks on a quest for justice that will make him question everything he thought he knew.
This book is available in print or kindle formats from Amazon US and Amazon UK.
JD, How did you come up with the title for your book? Does it have any special meaning?
It was the working title, and it just fit, so it stayed. I wanted something simple and stark, like Matt himself.
Who was your favorite character and why?
I think Striker (Matt's best friend since childhood) is my favorite character. He reminds me of a lot of my friends. I relate more to Matt, maybe that's why I like Striker more.
Does your book have any underlying theme, message, or moral?
I wrote The Biker as a tribute to Louis L'Amour. There is a lot of 'cowboy' morality, which is very much like the 'biker code'. Loyalty. Love. Honor. Truth. Justice.
What would/could a reader or reviewer say about this book that shows they "get" you as an author?
OK, I must admit…I'm a sucker for a Louis L'Amour book. I own over 70 of 'em, read 'em all at least twice. I've always appreciated the simplicity of his descriptions, the accuracy of his history and geography, and the power of his action dialog. That being said, I have to admit that JD Mader's "The Biker" hit me with all the force of L'Amour's best – even though it's set in modern times instead of the Old West.
Give us an excerpted quote from your favorite review of this book:
This book was one I could not put down! JD MADER nailed the biker code great story line, great characters, a book you must read again and again hope there's more to come from Matt Stark.
Where can people learn more about your writing?
www.jdmader.com