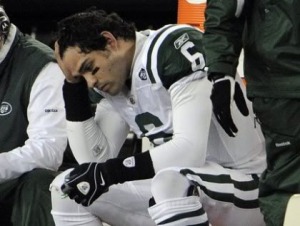 Recently, I had a chance to scarf up a couple of pretty decent tickets to an NFL game. (American football, yes, I know, stop laughing, you silly round-ball kickers.) The New York Jets were playing the New England Patriots. I am a casual watcher of both teams, mainly when they're winning, but my husband has been a die-hard Jets fan for most of his life.
Granted, the game was on Thanksgiving and I'd already made plans with my family, but as my office mate took a pass on the opportunity then subsequently offered it to me, this stream of thoughts flowed through my head:
1. It would be SO COOL to surprise Husband with those tickets and bank all those valuable spouse-points.
2. But he would hate every minute of it. So, never mind. And besides, we're going to my brother's house. I already bought ten pounds of sweet potatoes.
Twenty-some years ago, however, I would not have reached Conclusion #2. I would have nabbed those puppies, he might have grudgingly gone to the game, but he'd be miserable the whole way there and back.
Now that I'm familiar with this man, I know he'd rather chew ground glass than drive two hours to New Jersey in Thanksgiving traffic to sit in the cold, watch his team lose (mostly on the jumbo TV monitors, as you miss most of the action unless you've got stellar seats), and then drive home.
But how did I know his team would lose? Because during that twenty-some years, I've also learned a lot about football. Enough to know that his beloved team is having a horrendous season and any one of the Jets' cheerleaders would do a better job at quarterback than either of their mediocre QBs, one of whom, an expensive and ridiculous acquisition, is now out for the season with an injury.
And right now you're asking me what the heck this has to do with writing.
It's about experience. More than that, it's about trusting your experience.
Now, I'm a professional-type writer, for money and everything. Not much money, but it keeps the lights on, most of the time. And we professional-type writers write. Day, night, tired, sick, hung-over, the cat's vomiting on our shoes…we write. We make our deadlines. We try like mad not to disappoint our clients.
BUT, in those also-twenty-something years I've been a writer, I've learned a bit about me and how I operate. I know that I need complete silence to write. I know that I catch more errors when I read my work aloud. (Thank you, M. Edward McNally.) I also know that I'm much less adroit at sentence crafting after about nine-thirty at night. Heck, I can't even get a complete sentence out of my mouth. If something isn't working, it's probably because I have no business making words at that hour. I close the file, and in the morning, the paragraph that I'd labored over the previous evening is reordered and polished in about sixty seconds. Thereby saving myself the aggravation and my client the time and money.
And this is a lesson that, at least for me, had to be learned through experience: experience with writing and failing and trying again and eventually learning to trust my instincts and abilities. While powering through a problem might work for some writers, and I know many who thrive on this, it usually produces diminishing results for me.
A big part of growing and developing as a writer is to learn what YOU need. A book or a website like Indies Unlimited might teach you some nifty tricks about writing: how to improve your sentences, craft a tighter plot, flesh out a cardboard character, stop hamstringing yourself with one-size-doesn't-fit-all rules. It could inspire you to try new things. Which is great. Beta readers and editors can go deeper, pointing out personal quirks that might be getting between you and your reader, identifying where and how you can improve your chops and your story. But only through the experience of the writing process, in my opinion, anyway, can you really start putting it all together.
Oh, and speaking of putting it all together, I did bank those spouse-points. As we watched the recorded game after dinner in the relative comfort of our living room, zooming past the commercials, Husband turned to me and said, "Thank you for not making sit through this massacre in person." Now if we can only find a decent quarterback.
So, what have you learned about yourself through the writing process?