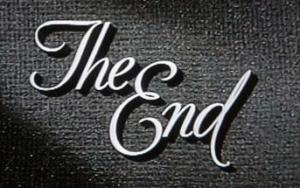 How could I go wrong, right? It was a New York Times bestseller, written by a popular author, published by a company similar to one using a logo of a flightless aquatic bird. Took five weeks to get it on inter-library loan. It started well enough. A woman in a dull but dependable marriage finds herself drawn to a handsome stranger with blinding white teeth and spurs. Not the most original of plots, but good writing. The conflict builds. The author raises the stakes. The heroine digs herself in deeper. I was led to believe that the ending required a choice: stay with Mr. Hot Stuff, or go home to Mr. Dependable. Even if she chooses Plan C and walks off alone into the sunset, she MUST ACTIVELY MAKE A CHOICE. The credibility of the story depends on it. And then… fate intervenes. Mr. Hot Stuff dies in a random accident. The choice is gone. The author has blown it. The book flies across the room. I make many apologies to Marion the Librarian and slip her a sizable fine.
That's just one way to ruin an otherwise good story and put a nice little dent in your wall, depending on the size of the book. Even if you have the most original plot ever crafted, characters so compelling you want to bake birthday cakes for them and bear their children, if you punt on the ending you risk alienating readers. Because this is the last thing they see. Remember the Olympics? Who remembers the lovely double-flip-back-handstand-with-a-twist-of-lemon if the gymnast falls on her tiny behind during the landing? Yes, that's the picture we'll remember. A little girl with sparkles in her hair, crying her eyes out. And nobody wants to see that. Well, if you do, maybe there's something wrong with you, but that's between you and your therapist.
Here are some other endings that can tick off your readers:
1. Bring in the ninjas! The bad guy, guns drawn, has our heroine cornered. Certainly, this is the end of her. But wait! What's that rumbling underneath our feet? An earthquake! And we're not even in a fault zone! It opens up a crevasse in the earth and swallows the bad guy whole. Uh…no. Unless you've planted the possibility of this somewhere along the way, the reader isn't going to buy it. Or you, ever again.
2. The unsupported twist. You've read them. Endings you never saw coming. But wait…did you? Our own Stephen Hise's novel, Upgrade, has a very well executed twist-style ending. Yet little clues are seeded in throughout, so ultimately, if you've been paying attention, you might not know exactly how it's going to play out, but you might think, "Of course, it had to end that way." But putting in a twist for the sake of a twist, with no other supporting plot elements, comes off as manipulative and a little desperate.
3. Author must have gotten tired. I get annoyed when a good story feels too rushed at the end. Even if it's been done intentionally, I can't help feeling that the author got bored and wanted to wind it up. Take a breath. Put the project away for a while if you need to. But come back and make the ending fit the tone of the rest of the story.
4. Abandoned plot threads. I love a complex read with a number of subplots. You don't have to tie them all up in a neat bow at the end—depending on your genre, this could end up looking a little too perfect—but don't leave the reader hanging. Point us in a direction. The runaway teen calls home. The warring young couple finds the key to common ground. The innocent prisoner sees the first glimmer of justice. Let the reader meet you halfway. Don't leave me thinking, "What happened with the old dude and penguin?" It just makes me bitter. Because I like penguins, and that's just not right.
5. The easy out. Romance and romantic comedies are particularly guilty of this egregious sort of book ending. Everybody magically happens to be in the right place at the right time. The about-to-be-dumped love interest merely steps out of the way with a wistful smile. Right. Like that happens in real life.
Have you paid any extra-large library fines lately? Have any endings ruined an otherwise good read for you?