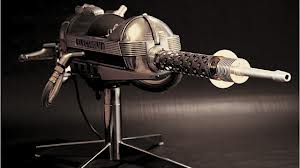 Indies Unlimited is brought to you in part by Char-Master Laser Death Rays.
Whether you need to defend your skull-shaped island from unwanted intruders or to obliterate individual targets from orbit, the Char-Master Laser Death Ray will meet all your needs. Our solid-state circuitry and patented plasma coil capacitors make short work of even the heaviest jobs. Easy-to-follow tutorials and 24 hour online support assure you will achieve mastery with amazing speed and become the envy of every evil mastermind on your block.
Our top-of the line Char-Master model is available in a wide variety of colors to match your motif, including Sinister Silver (shown), Tuxedo Black, Electric Blue, Arctic White, or Fall Medley.
---
DISCLAIMER: Most laser death rays, Including the Char-Master, require substantially more power than can be delivered with household current. Batteries sold separately.
Char-Master Laser Death Rays are available wherever fine imaginary products are sold.