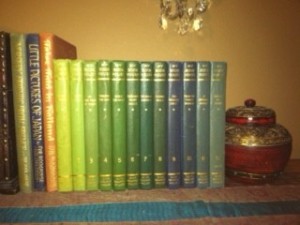 "There is always one moment in childhood when the door opens and lets the future in." —   Graham Greene
My daughter doesn't live at home anymore, so I have been in the process of converting her bedroom into an office. This has been a major undertaking, (girls have a lot of stuff), but a necessary one. It is impossible to write coherently in an open and shared space where the cone of silence cannot descend. As I write this weekly post, it is pouring rain outside my window, soaking everything in sight, including the wild turkey pecking at the sodden grass. It reminded me that when I was a child, these were the days I loved to read.
What can a writer keep in their workspace that inspires them? In my case I couldn't bring anything INTO the room until I removed eighteen years of accumulation. After the cleanout was nearly complete, I decided to move something very precious into my new private space, something that means the world to me. My collection of "My Book House" now sits in pride of place, serving as a daily reminder of the first important discoveries in the journey of this writer. It is, I sometimes think, why I am who I am.
Please understand that I am not saying my parents or teachers did not have a great deal to do with my personal growth and my eventual decision to write. I was lucky to be surrounded with much love and support, although not a lot of money. I don't believe in creating a fairy tale past, a la Coco Chanel. I own my past. So, I will admit something else – Olive Beaupré Miller is one of my heroes. If you write children's literature you know all about her and what she created in "My Book House". Google her and you will be impressed by a woman who started a business in 1920, and believed in early sex education for children. She was marvelous, brilliant, and ahead of her time.
As a graduate of Smith College and as a published author, OBM was unhappy with what was available for her to read to her daughter. She and her husband formed a publishing company, The Book House for Children, and they hired women to sell the collection exclusively door to door. She had three criteria for what she believed to be critical components in appropriate children's literature:
"First, to be well equipped for life, to have ideas and the ability to express them, the child needs a broad background of familiarity with the best in literature.
Second, his/her stories and rhymes must be selected with care that he/she may absorb no distorted view of life and its actual values, but may grow up to be mentally clear about values and emotionally impelled to seek what is truly desirable and worthwhile in human living.
Third, the stories and rhymes selected must be graded to the child's understanding at different periods of his/her growth, graded as to vocabulary, as to subject matter and as to complexity of structure and plot."
These three standards were achieved in a beautifully bound twelve-volume set of books, with a complimentary set of three additional books called, "My Travelship". Although it is impossible for me to say which volume or story is my favorite, I must admit that the "Nursery Friends From France" volume always intrigued me. The portrait on the cover is lovely, and I only realized as an adult that it was, and I quote, "suggested by the portrait of the prince and princess, Charles Philippe and Marie Clotilde of France. It was painted by Francois Drouais, and hangs in the Louvre". Not only was the quality of the literature in "My Book House" considered carefully, but also the illustrations included in these books are miraculous, drawn by famous artists of the day. I could weep from their beauty.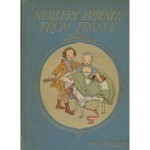 Did the cover of this book encourage me to study French literature for eight years? It didn't hurt. OBM didn't dumb things down for children. She presented a window into a world of beauty where all things are possible. I looked out that childhood window with as clear an idea of the world's possibilities as I look out at today's driving rain, bringing you to the reason why you should care about "My Book House".
If you are a Harry Potter fan you will remember the Basilisk in "The Chamber of Secrets". The first time I saw the movie, which was before I read the entire series, I knew I had heard of a Basilisk, but I couldn't remember where. One day, I finally discovered why it had seemed familiar– the story of the Basilisk is contained in a volume of "My Book House". Did J.K. Rowling get the story from there? Probably not. But she did not make the Basilisk up. Her superior research allowed her to see the brilliant possibility of a bit of folklore. Gems like this story, the tale of the Basilisk, were carefully curated by OBM.
My set of "My Book House" was a thoughtful gift from my brother. He has our cherished set from childhood. The books were published from 1920 until 1963, and many sets are still available on various Internet sites. If you can afford to buy one, treat yourself, you will never regret it. If you write children's books you will fall in love with them the way I did. If you own them, like me, or have fond memories of losing yourself in the stories, please take the time to comment below. And don't forget to look out the window.
*     *     *     *     *
L. A. Lewandowski is a Contributing Author for Indies Unlimited and author of the novel, Born To Die – The Montauk Murders. For more information, please see the IU Bio Page and her blog:cultureandcuisineclub.com.