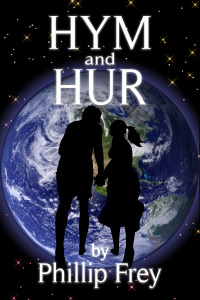 Today we have a sneak peek of author Philip Frey's fantasy-comedy Hym and Hur:
Hym and Hur are a young couple who never age and have been in love for more than a century. They also possess magical abilities, two of which are either to play pranks on humankind or to perform good deeds. Enacting both at once is now what gets them into trouble, especially since it's the unruly character of Death they must deal with to bring their plans to fruition.
The prank Hym and Hur have come up with must first be agreed upon by Death, who happens to be a rambunctious, difficult character. Once agreed upon, the prank is set in motion. Hym and Hur soon discover Death had tricked them into a contract with dire consequences for all of us.
Hym and Hur is available on Amazon.com, Barnes & Noble, Smashwords, iTunes and Kobo Books.
From Hym and Hur:
Chapter 1
A bright flash lit up the restaurant window. The waitress snapped her eyes shut, thinking it was the sun bouncing off a windshield. Blinking her eyes open, she noticed the booth alongside the window was occupied. A booth she could have sworn had just been empty, and she made her way over to it.
Hym set the breakfast menu down. "Coffee," he said to the waitress, "and can I get a hot fudge sundae at this hour?"
"No problem," she told him. "And for you, ma'am?"
"Hot tea," Hur said, "and a slice of cherry pie with two scoops of vanilla ice cream."
"Sounds great," the waitress smiled, and she left them.
"What'll we do today?" Hur asked Hym.
Searching for an answer, his hazel eyes filled with mischief. "How about this?" he whispered. "For twenty-four hours we give everyone in Los Angeles bad luck."
"But most of them already have bad luck," Hur said. "And it would be a negative. Why not give everybody good luck?"
"Not really my kind of fun," he slouched.
In the silence that followed, each tried to come up with something.
"Breakfast time," the waitress announced. She served the drinks and desserts, then was off to the next booth.
Hur's blue eyes brightened. "I got it," she said, and it was her turn to whisper. "For a day or two, no one in Los Angeles dies."
Hym slapped his forehead. "That is great!"
"Oh-darn," she said. "We'll have to get you-know-who to go along with it."
"Why wouldn't he?" Hym said as he dug happily into his sundae. "It'll give him a chance to shorten his list."
Hur nodded skeptically as she took a big bite of her dessert.
Chapter 2
Barney's Beanery had just opened. There were only two customers at the bar. A chubby old woman sipped a beer at one end. At the other sat Death tossing back a shot of Jim Beam.
He grimaced with delight, slammed his glass down and said, "Barkeep — I'll have another."
Pouring the drink, the bartender eyed Death's black coat and fedora, the pale skin and long gnarled fingers. "Perfect weather for a coat," he cracked, "must be only about 80 out there."
Death took hold of his fresh drink. "You're too young to be a real barkeep," he said. "You're a standup comic, just trying to make ends meet."
"Got me pegged," said the bartender. "Which club you see me at?"
"None," Death grinned. He downed the Jim Beam, burped and said, "I'm a real whiz when it comes to people-insight."
The Beanery's door opened. Hym and Hur stepped in and gazed at the far end of the bar, at Death ordering one more for the road.
Death saw them and arose tall and lanky from his stool. "It's Hym and Hur," he said leaning in toward the bartender. "Pair of beauties, wouldn't you say?" Then turning toward the pair, he hollered over the distance: "Pair of troublemakers is more like it!"
__________________________________