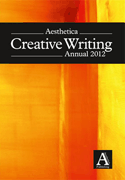 Aesthetica Magazine is inviting all writers and poets to submit their work into the Creative Writing Competition. Each winner will receive £500. Winners and finalists will be published in the Aesthetica Creative Writing Annual.
Entry is £10 +VAT and this permits the submission of two works into any one category.
The deadline for entries is 31 August 2012.
For more information, visit their website.
*     *     *     *     *
Indies Unlimited is pleased to provide this contest information for the convenience of our readers.  We do not, however, endorse this or any contest/competition.  Entrants should always research a competition prior to entering.