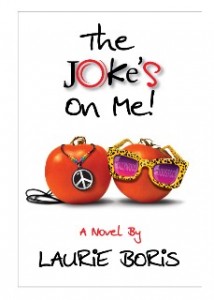 Today we get a sneak peek from Laurie Boris's novel, The Joke's on Me:
Frankie Goldberg is a former actress and stand-up comic whose life in Hollywood falls apart with an exclamation mark when a mudslide destroys her hopes, her home, and her entire collection of impractical footwear. Needing comfort, she returns to her mother's B&B in Woodstock, New York, where she spent her teen years doing chores and chasing after the handyman's hot, high-school-jock son. But the joke's on her. Now she has to deal with the mess she left behind, including her non-relationship with her bossy older sister and their mother's illness. As if her new life isn't complicated enough, the handyman's son, now a minor-league baseball coach, is back in town.
The Joke's on Me is available in paperback and has just been released as an e-book, on Amazon.com and B&N.com.
_____________________
The Joke's on Me (excerpt)
by Laurie Boris
"Dad, this is Frankie. Jude's … I mean Ms. Goldberg's sister. She lives in Hollywood."
I literally could not move or speak. Of all the ways I imagined seeing Joey again, this scenario didn't make the list. I was always fresh and beautiful, coming to congratulate him on his perfect game. We'd go back to my place for drinks, and I'd show him my Oscar, my Emmy, and my pair of Golden Globes. Our reunion was not supposed to be in my mother's house, with me coated in dirt, sweat, and grass clippings, and introduced by the son who should have been ours.
Joey's eyes crinkled amusement at the corners. "Really," he said. "Frankie, huh? Cute name. Short for something?"
"Something." My muddy knees turned to jelly. The road map of his years had begun to etch into his skin, gray feathered his temples, but I saw the boy in the man's face when he smiled.
I saw the boy remembering the girl.
"Frankie, this is my dad."
"Hi, Dad."
Ryan made self-deprecating noises. I was not looking at Ryan. Neither was his father.
"Sorry," Ryan said. "Joe. Joe Mazzarella."
"Hi, Joe Mazzarella."
"And that's Frankie's 'Vette outside." Ryan said this like it was another member of the family.
"Really," Joey said. "Show biz is good, huh?"
His years in Texas had softened his voice around the edges, giving him the slightest of drawls. It was softening my edges as well. "Yeah, if you suck up to the right people."
"Really."
"She asked if I wanted to buy it," Ryan said.
"Really."
"Don't you have a game?" Ryan sounded annoyed.
Game? Last I heard he'd been let go from the majors.
"Yeah, sport. I'll help you load up."
Ryan eyed the two of us suspiciously as he shuffled into his jacket and held open the door.
I walked them out, grabbing a rake. Joey picked up the chain saw. He looked good, moved well, fit enough to take the mound. It had been a while since I'd gotten the latest scoop on his career. Maybe someone else had picked him up. If that team was playing in New York, he could make it to the stadium by game time.
"You still play?"
As he loaded the chain saw into the back of a snazzy, tricked-out pickup, I thought I saw him wince. "Coach. The Double A team across the river, down in Fishkill. Come by sometime if you want a good laugh." He brushed dirt off his palms. Looked at me a long moment, as a slow smile spread across his face. "Damn. Frankie Goldberg. How's the fastball?"
"You already know her?" Ryan sounded, if I wasn't mistaken, not only annoyed but a little jealous.
"I taught Frankie how to pitch way back when."
Ryan looked at me as if I'd sprouted a third eye. "You got a 'Vette, and you can pitch?"
"Don't crowd the plate on this one." Joey winked at me as he stepped up into his truck. "She'll knock your whiskers off."
_____________________
[subscribe2]