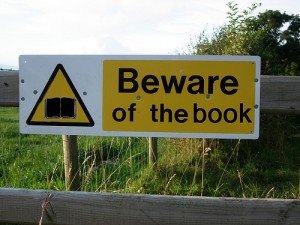 Getting a bad review can be hard, even debilitating – so, I've heard. I make it a practice to avoid them. I have been lucky in this regard. My outstanding abilities as a writer, nay – human being preclude nay-sayers from having their nay-say. In all seriousness, I don't get bad reviews. But I try to attempt to maintain some form of humility (excuse me – the bikini girls are acting up again…so hard to find good help, non?) So, let's assume I get bad reviews and have to deal with them as opposed to having my man servant deal with them – which is what I would do if I did…get bad reviews that is.
There are two types of bad reviews. There are probably more, but I hate math. One, the bad review where your novel/story/poem whatever is hacked apart. Two, one where you PERSONALLY are attacked. They are very different and must be dealt with in different ways.
If you get a bad review of your work, immediately ascertain the reviewer's qualifications. Did they love Twilight? Then, relax, have a glass of wine…that's a GOOD review. Do they have taste and human decency….ahh, this is where things get tricky.
When I was teaching creative writing workshops, I also wrote with my students. I always made it clear that since they were young writers, we would praise and then constructively critique. For me, the praise part was unnecessary. I wanted only the ugly…because I do not need praise. I need to improve my work. That is what honest, raw, critiquing does. Let me be clear here…this is something established writers say that is 94.3 percent bullshit. I mean, I really do just want the bad…but I will hate you for it. Make no mistake. Same goes for all the other writers who say, 'skip the good, man, the good doesn't help me'. They are helplessly delusional and probably alcoholics. Granted, it is your fault, but let's move on.
In theory, this is good advice. I want to know what didn't work (you stupid son of bitch). That is what helps me. Whether it is a critique, beta read, or review. So, embrace your well-done bad reviews. They can help you. For instance, the two major criticisms of my first novel, Joe Café, are that Michael, the cop, is weak and that the ending is abrupt. I agree with both these assessments. It was my intention to make Michael a sniveling weakling. And the abrupt ending was intentional as well. It doesn't work for some people. That's good to know.  I appreciate the honesty.
Now, the other kind of bad review. Personal attacks. This has only happened to me once. I commissioned someone to do a cover for me. I did not like the cover and tried to convey that (she complained that it would take her days to address the changes I wanted, and then sent the new docs within hours); I wrote her a long email – I offered to pay her extra to let it go. She went insane on me. She said I was trying to get her to buy my book for $50. She questioned why I would lie about working with autistic kids (I DID work with autistic kids). She went into my blog and pulled out bits of my stories and shredded them. She wrote a blog piece about me and about how I was 'everything wrong with the indie-writing community'. I won't lie. That hurt like a bitch. It was personal and vicious. Then I did a little research and found her Twilight fan page and let it go. (She'll probably show up here. I saved all your emails, so bring it you delusional bitch).
You can't please everyone. I can. You can't. You shouldn't try. Please yourself (not that way, at least close the blinds – Jesus). But really, there are people who love what I write. More than I do. And there are people who think an exorcism needs to be performed. People who think I need a straightjacket. People who think I need an editor – of all the nosense. I hate all these people. That's the moral here, folks. Nice guys like McNally will tell you they appreciate hearing your point of view. They want to hear the good, but more importantly the bad and ugly. But we hate all of you. Sorry. That's my review for you. I hate you.  Now, please go buy my books and give them creampuff reviews and five stars.
Seriously, if someone takes the time to write a thoughtful review, try and be happy. First, they read your work. Second, they cared enough to review it. AND, if you can put your feelings into a box and lock them away forever, you might learn something. Like how much vodka it takes to get to the hospital.
*     *     *     *     *
JD Mader is a Contributing Author for Indies Unlimited and author of the novels JOE CAFÉ and THE BIKER. For more information, please see the IU Bio page and his blog:www.jdmader.com.
[subscribe2]