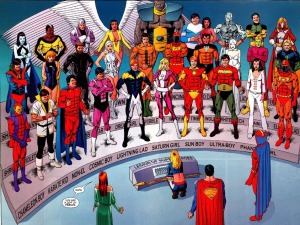 By the title, you might think that this is going to be a post about heroic characters in books, particularly as I myself write mainly in the Epic (or at least, really long) Fantasy genre. But that is not what this is.
Instead, these are my ruminations on a question that's been rolling around in my head over the last eleven months or so, in the time since I first uploaded a book to KDP and discovered I had become something called an "Indie." The question presented itself after wandering around threads in various places with names like "How to avoid Indie books," and in the wake of the unabashed joy some expressed on the Kindle Forums when all "spamming" writers were herded off to the "Meet Our Authors" enclosure (smallpox-laced blankets now available). The question, basically, goes something like this:
Why do some readers seem to absolutely loathe writers?
Now, I am not talking about readers who are just rightly fed up with being constantly spammed upon, nor those who have happened to read any of the legion of "books" by Indies which are, let's face it, not ready for prime time. The beauty of Indie World is that anybody can offer anything for sale, and of course that's the horror of Indie World, too. Most complaints I have seen readers make are because A.) there is a lot of garbage out there, and B.) someone is shrilly trying to sell it to them every two seconds.
But it seems to me that within some of those totally warranted complaints, without looking very hard, you can often find a strain of something else.  There is, to put it mildly, real anger and invective being hurled around about the very gall of anyone daring to call themself a "writer," just because they wrote a book.
It would be easy, and maybe comforting, to turn up a pretentious nose and think that the (few) readers getting totally bent out of shape about all Indies as a species are just frustrated writers themselves. Or that the publishing house they work for is gasping and wheezing in its death throes. But I doubt that's the case. I'm not pretending to have any definitive answers, but what I've come up with after cogitating for a few months is that it has something to do with how "Writers" (capitalized) are sometimes viewed. It has, in short, something to do with Hero Worship.
Let's face it. As writers, we all have some favorite practitioners of the craft. Somebody who would make us, if we spotted them in a grocery store, plow our cart into a display of Fritos. Point and sputter and shriek, then chase them out into the parking lot waving our arms and sobbing. Or something like that. Because really, they are that important to us, those authors who have touched us deeply. They do seem, those favorites of ours, to be something special and magical and magnificent. Somehow, superhuman. Heroic, even.
And this is despite the fact that we, as writers, know that this whole process is more hard work than mystical power. There may be moments of inexplicable magic and inspiration while hunched over a notebook or squinting at a monitor at 2 AM, but really the process of writing is mostly a slog. Pushing words around like we're folding laundry or digging a ditch. We know that any writer – bad, decent, good, or great – is a laborer more than a magician. And yet there are a few for whom we'd still fall all over ourselves.
So what I posit is this: That the virulent, apoplectic hatred one sometimes sees expressed by the occasional reader in a forum somewhere is just the result of what that particular reader happens to feel about writers in general. If the reader has lionized "Authors" as some superhuman subset of the Elect and the Gifted and the borderline Holy, then yes. Any schmo off the street who says "I write books, too," is going to be met with derision, and anger, and even "How-dare-you?" rage. Again, I am not saying this is at all common among a large number of readers, and I feel that a lot of complaining about sloppy work and egregious spamming is fully warranted. But there are moments when the Hate seems so out of bounds, that it really must have something to do with Love. Must it not?
———————–
As always in closing, an excerpt from an authentic one-star
review by a real, live reader:
"He kept saying Robert Jordan. Robert Jordan. Robert Jordan. Quit saying his name over and over again on repeat! Couldn't he have shortened it to Robert or simply Jordan? Naturally he couldn't help that it is the same name of a fantasy writer I didn't particularly like but Holy Crabcakes did he have to keep mentioning it?" – Ernest Hemingway, For Whom the Bell Tolls
*     *     *     *     *
M. Edward McNally is the author of the Norothian Cycle books: The Sable City, Death of a Kingdom, and The Wind from Miilark. He has been writing for twenty of the last thirty years and does not recommend the ten year spell of writer's block in the middle. Ed is a contributor at Indies Unlimited and tilts at his own windmills over at http://sablecity.wordpress.com/   [subscribe2]