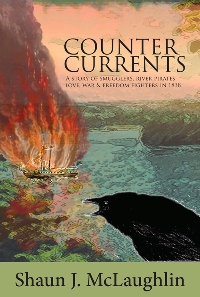 Counter Currents
by Shaun J. McLaughlin
Genre: Historical Fiction
Word count: 104,000
Counter Currents, the 2013 silver medal winner for Historical Literature Fiction – Modern (set 1500-1940 AD) from by Dan Poynter's Global Ebook Awards, is set in the Patriot War, an almost forgotten border conflict, where rebels attacked Canada 13 times from the USA. Among the raiders was Bill Johnston, the St. Lawrence River historical legend.
Ryan, 19, arrives in colonial Canada at the outbreak of the 1838 Patriot War. He is drawn into Bill Johnston's world of smuggling and secret societies set in the beauty and grandeur of the Thousand Islands. Ryan falls for Johnston's daughter, Kate, and is coached by her older cousin Ada on how to capture Kate's heart. Ada develops feelings for Ryan and he in turn grapples with his attraction to Ada.
Circumstances drive Ryan into a web of piracy and rebellion. Each step Ryan takes closer to a peaceful life as Kate's husband is matched by deeper entanglement in a glorious but lost cause. Tugged by the opposing currents of romance and war, Ryan struggles to reconcile his family history, his duty and his heart. The story builds on real events surrounding the Patriot War and stays close to historic facts. It is history illuminated by fiction.
This book is available from Amazon, Smashwords, and Barnes & Noble. Continue reading →