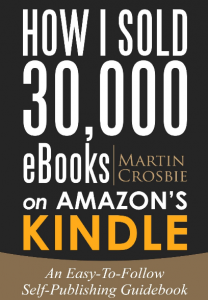 Crosbie's List of Book Promo Sites

I've used most of these sites at one time or another. Some of them are free, others have free and paid services. Some are UK-based sites and I've added sites that are exclusively for erotica writers. There are more too; they spring up almost daily, and that's a good thing because as my little July experiment revealed, if I want to find readers I need to get out there and work at it. I can't sit back and wait for it to happen, and fortunately, for me and you there are many ways to get the word out there. Good luck, and if your sales stall don't worry, there are lots of places you can go to find readers.
This is just a sample of the kind of information you'll find in my new book:
How I Sold 30,000 eBooks on Amazon's Kindle
Available from Amazon US and Amazon UK.
PROMOTIONAL SITES FOR YOUR FREE AND DISCOUNTED BOOKS
Updated October 2015

Thrifty Thursday on Indies Unlimited
http://www.humanmade.net/submission-form
http://newfreekindlebooks.com/authors
http://www.totallyfreestuff.com/
http://www.icravefreebies.com/contact/
http://fireapps.blogspot.ca/p/app-developers-authors.html
http://blog.booksontheknob.org/about-this-blog-and-contact-info
http://indiebookoftheday.com/authors/free-on-kindle-listing/
http://manybooks.net/promote.php
http://kindlebookpromos.luckycinda.com/?page_id=283
http://freekindlefiction.blogspot.co.uk/p/tell-us-about-free-books.html
http://www.freebookshub.com/authors/
http://www.ereaderiq.com/about/
http://ebookshabit.com/about-us/
http://snickslist.com/books/place-ad/
http://freekindlefiction.blogspot.ca/p/featured-post.html
http://www.blackcaviar-bookclub.com/free-book-promotion.html#.UXFB27XYeOc
http://www.kornerkonnection.com/index.html?fb=ebookkornerkafe
http://www.freeebooksdaily.com/p/contact.html
Ripley's Booklist – Young Adult Books
https://www.facebook.com/pages/UK-Kindle-Book-Lovers/175617412524192 (Facebook Group)
https://www.facebook.com/kindle (Facebook Group)
https://www.facebook.com/IndieKindleWLC (Facebook Group)
https://www.facebook.com/weloveebooks (Facebook Group)
https://www.facebook.com/Bargain.eBook.Hunter (Facebook Group)
https://www.facebook.com/TheKindleObsessed (Facebook Group)
https://www.facebook.com/KindleNation (Facebook Group)
https://www.facebook.com/ebookimpresario (Facebook Group)
https://www.facebook.com/earthsbooknook (Facebook Group)
https://www.facebook.com/AontheC (Facebook Group)
https://www.facebook.com/iauthor?sk=wall (Facebook Group)
https://www.facebook.com/kuforum (Facebook Group)
https://www.facebook.com/pages/Kindle-Finds/217115528350246 (Facebook Group)
https://www.facebook.com/IndieBookLounge  (Facebook Group)
https://www.facebook.com/groups/kindlefreebooks/ (Facebook Group)
https://www.facebook.com/DigitalBookAddicts (Facebook Group)
https://www.facebook.com/groups/602196313230557/ – for Kindle Unlimited titles
https://www.facebook.com/groups/1485322851757071/ – Free Short Reads (short stories and flash fiction)
https://www.facebook.com/groups/etotallyfree/ – Totally Free eBooks
https://www.facebook.com/groups/freekindlebookclub/ – Free Kindle Books
https://www.facebook.com/groups/Bookjunkiesfreebies/ – Book Junkies Freebies
http://uk.hundredzeros.com/  (UK site)
http://freekindlefiction.blogspot.co.uk/ (UK site)
http://flurriesofwords.blogspot.co.uk/ (UK site)
http://ebookdealoftheday.co.uk/submissions/ (UK site)
http://www.dailycheapreads.co.uk/ (UK site)
http://www.indie-book-bargains.co.uk (UK site)
http://pretty-hot.com/submit-your-book/  (erotica only)
http://wantonreads.com/tell-us-about-your-book/  (erotica only)
http://www.kornerkonnection.com/index.html?fbkornerkafex (erotica only)
https://www.facebook.com/elitforlovers (Facebook Group, erotica)
http://www.xtme.de/submitting-a-free-e-book-to-xtmeenglishbooks/ (German site for English books)
CONVENIENT LISTS OF PROMOTIONAL SITES
http://authormarketingclub.com/members/submit-your-book/
http://authormarketingclub.com/members/amc-paid-promo-book-list/
http://www.authorpreneurmagazine.com/72-places-to-promote-your-kindle-book-when-its-free/
http://www.ebookbooster.com/  (they have a list of sites on their home page)