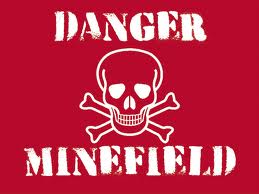 With the recent mini-furor over a blogger who experienced a legal hassle for using a picture without permission of the photographer, it might be a good time to take a gander at two terms that you have obviously heard of: Copyright and Trademark. What are they? How do they affect you and the coming Zombie Apocalypse?
Copyright is pretty simple: It is the exclusive right to make copies of something. Everyone who creates pretty much anything that is a salable work of music, art, stage performance, literature or motion picture is protected by copyright in the United States automatically. If you write down your grocery list along with a few reminders to yourself on a scrap of paper and then lose it, technically no one else can publish that list if they find it. You don't even have to publish it, be it in a dead-tree book, a blog, or a handbill on the wall. As long as you've written something down, in some form, you are protected. It naturally gets more complicated if you actually want or need to assert your legal rights, as you have to file papers and pay fees to various governmental agencies, since a paper trail is often needed to prove timing. But that's really the basic gist of copyright: You write something down, you take a picture of something, you write some music, and you and you alone have the ability to decide how that particular creation is used.
Copyright protection is also not eternal. As a general rule, for works created after January 1, 1978, copyright protection lasts for the life of the author plus an additional 70 years. (source: U.S. Copyright Office)
You cannot, however, copyright:
• A name, no matter how eclectic it may be.
• An internet domain name.
• A book, movie or song title.
• A basic list, such as a recipe, unless you add your own directions and annotations.
• An idea.
• A slogan, axiom, adage or short phrase.
But some of those things can get protection from Copyright's li'l brother, Trademark. There are three kinds of trademarks: Trademarks, servicemarks and patents.
A patent is something most folks have heard about. Edison had lots of them, buying or stealing them from Tesla. (Sorry, I'm a Tesla fan. Death rays rock!) They are, very simplistically, copyright protection for ideas and inventions. They're a whole ball of wax of their own, so that's all we're going to mention about them.
Trademarks and servicemarks are distinctive marks that identify a particular business's goods and services from any other businesses. You see them every day: McDonald's Golden Arches, the NFL shield logo, the cover of this week's Action Comics, the box of Tide on your washer. It can be a picture or logo, a phrase, a distinctive style of architecture, a cartoon character, and so many other things. A trademark protects you as a business entity, against other entities who may try to use your intellectual property to promote their own business ventures. You'll often see a tiny little "TM" after a logo. That means that particular business considers that phrase to be a trademark, of course. Sometimes there's a little "®" after a logo instead. This means that it is a Registered Trademark, and the business concern has registered that name or phrase with the government, giving it a bunch of added legal protections when push comes to shove.
Here are some examples of trademark and copyright usage in the past:
• Aspirin was once a trademarked name, but because it became synonymous with that particular pain reliever, and the original makers didn't ruggedly pursue firms who also made aspirin products until it was too late, it became a generic term. Trademarks have to be enforced or they lose their protection.
• After nearly twenty years, DC Comics came out on top against Fawcett Publications when a court decided that Captain Marvel (you know, Shazam!) was too similar to Superman and was deemed infringing that trademark. Captain Marvel disappeared from comic book stands, until Marvel Comics came up with a Captain Marvel after years of the name not being used. This established a new trademark and gave Billy Batson a major conundrum.
• Universal Pictures once trademarked the word "rocketship" so it could only be used in conjunction with Flash Gordon up on the big screen.
• Walt Disney, or at least the evil mega corporation that has become DISNEY, sued a daycare center in Hallendale, Florida because they had painted the walls of the center with pictures of Mickey, Donald, Goofy, and Pluto. The little tykes got to see a company with class, as Hanna-Barbera came in, repainted the walls with Scooby-Doo, Fred Flintstone, Yogi Bear and the gang, and threw the kids a massive party.
After reading all that, please don't get paranoid. We CAN use pictures and stuff we find on the web, if we do it properly, and often more importantly, with consideration.
First of all, don't use someone else's work to make money for yourself. And always ask first.
The Fair Use Doctrine provides that scholars, researchers and others may use parts of copyrighted works. It's not a blanket permission to go crib willy-nilly from everyone else. But it does present people who properly use excerpts from other works with a defense to any accusations of copyright infringement by the copyright owners. You can post a book cover and maybe an exemplar paragraph from a book in an online review. You can cite a particular work in a scholarly work, with the same kind of usage. The popular trend of sampling music in other songs supposedly falls under this as well, but I wouldn't necessarily try it without getting permission beforehand unless you have a good legal team. The music industry is still kinda techy. If you post a photo on Facebook (or share one), your protections are more vague, as that's something that hasn't been brought into the courts yet, to my knowledge.
The important thing to remember is to play nice. Quite often, if you give the person the credit he or she deserves, and are not making money off their material, there will be no problem. No one wants to see their work bring in riches for someone else. Use some common sense, people! The internet was created on the basis of sharing; that's really the basis of society – sharing information, experiences, art. Just have a little consideration for the other guy.